Yesterday sex workers around the world marked 17th December, International Day to End Violence Against Sex Workers.
For sixteen years, sex workers around the world have used this day to highlight the need for action to end violence against sex workers. The issues faced by sex workers often vary from region to region, due to different laws, social and cultural contexts, but one common issue faced by all sex workers is their vulnerability to and experience of violence.
Asia and the Pacific
APNSW and IWARAW-AP held an event in Nepal to mark 17th December, which was attended by more than 100 sex workers and supporters.
"Sex workers spoke of the violations faced in their countries at the hands of police and laws as well as the intense stigma and discrimination against sex workers. APNSW members spoke of the work they do in challenging these violations and the need for decriminalisation of sex work to end violence against sex workers."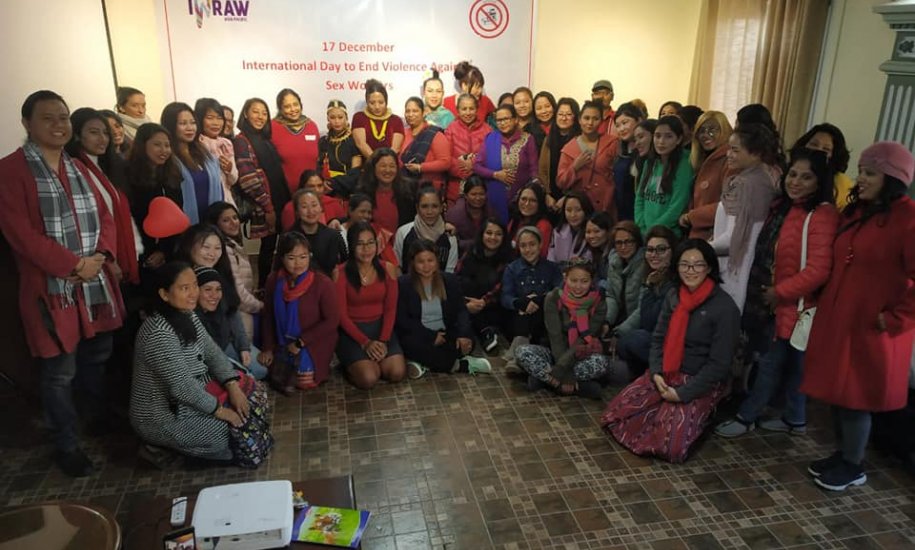 (Credit APNSW/IWRAW-AP)
National Network of Sex Workers in India also held an event, and sex workers shared videos to mark the day. 
Respect QLD held a candlelight vigil at Centenary Place Park, Fortitude Valley, with some short speeches from sex workers, allies and supporters, and hosted a performance from sex worker and performer Queenie Bon-Bon's new show "I made my bed, you lie in it". Respect QLD also released a video calling for law reform in the state. 
Europe
ICRSE published a new infographic highlighting the collateral damage of many anti-trafficking initiatives, and also published a joint statement with SWAN.
"On this day, our organisations aim to draw specific attention to the violence and discrimination faced by trans sex workers in Europe and Central Asia. Just like in the rest of the world, trans sex workers in our region are experiencing extreme violence that is fuelled by stigma and lack of protective laws and human rights. Sex workers are subject to discrimination and violence from members of the public, health care professionals and the members of their own families on a daily basis. Structural transphobia and criminalisation of sex work create an environment of impunity for potential aggressors who know that trans sex workers are unable to report violence to the authorities. In many countries, authorities such as police and immigration officials are often the principal perpetrators of this violence. (Undocumented) migrant trans sex workers in particular are further criminalised and deported."
Legalife Ukraine organised a conference - "Protecting the Rights of Sex Workers in Ukraine" - 17th-18th December, involving speakers from ICRSE, Proud, SWAI, SWAN and TAMPEP. You can watch one of the sessions on Facebook.
Sex workers took part in protests in Brussels, Paris, Skopje and Utrecht, and vigils in Dublin and Prague.
(Credit:
UTSOPI
)
(Credit: 
STAR
)
(Credit:
Proud
)
North America and the Caribbean
SWOP Seattle organised a walking vigil on 17th December, carrying a coffin through Seattle and reading names of sex workers lost in 2019.
(Credit:
SWOP Seattle
)
In Ottawa, POWER marched to the human rights monument, and the Sex Workers' Action Network (SWAN) hosted a 'die-in' protest event.
(Credit:
POWER
)